SDGs Portal Italian portal of Sustainable Development Goals indicators for cities
Training and research
Italian portal of Sustainable Development Goals indicators for cities
Where are cities positioned today in their journey towards achieving the International Sustainability Targets?
The Italian portal of the Sustainable Development Goals indicators for cities was realised with the German section of the CEMR and two international research foundations specialised in the study of the SDGs, the Fondazione Eni Enrico Mattei and the Fondazione Bertelsmann,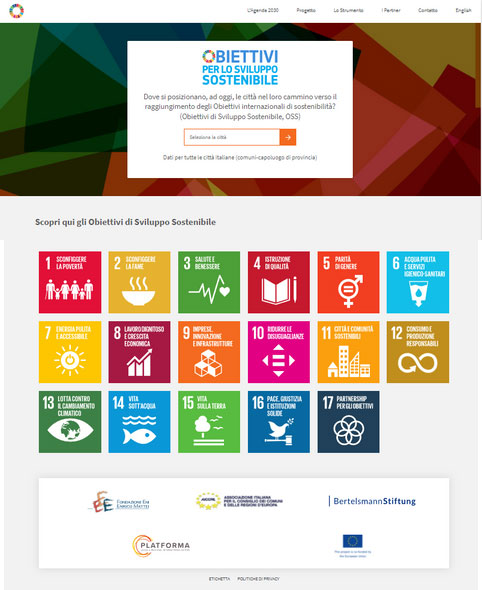 to create the first Italian portal on the SDGs of cities, the only one to tell for each SDG of the 2030 Agenda, the level of achievement of Italian capital cities with respect to each goal. The SDGs Cities Portal is important because it allows central governments to check the status of implementation of the alignment of territories' strategies with national ones, but also because it underlines the value of local authorities as key actors in the achievement of the 2030 Agenda. It has the advantage that it is not based on a self-assessment of results by the cities themselves, but rather ensures a homogeneous scientific data across the country, and whose assessment process is the same as that used in
Germany and soon the Kingdom of Morocco.
"We would like the SDGs Italy Portal to become the operational tool for cities to dialogue with each other, to exchange successful experiences, and we would like this dialogue to have an international dimension: this is why the project has expanded and will give life to the SDGs Global Portal of the world's cities. In addition to the Italian, German and soon Moroccan portal, the Global SDGs Portal will be open to any country in the world that would like to participate in it, but above all, we would like it to be the starting point for decentralised cooperation activities between our cities and those in developing countries on the basis of SDGs-based activities, guiding us towards the construction of an inclusive, sustainable and equitable common future'.